Keeping your children safe is your priority and equipping them with the skills to do so is my expertise…. Teaching children Krav Maga will ensure they grow up into adults who have not only gained life skills but have the skills to keep themselves safe and stay out of harms way as we say in Krav Maga
"We don't want any trouble but what about if trouble wants you"
Teach your children the skills of Krav Maga today – Norman Benezra IKMF Kids Instructor G2 Qualified Krav Maga Adults Instructor- Head instructor & Owner of Bunit Krav Maga.
One of the reasons I learnt how to teach kids Krav Maga is because of the impact it has had in my own life as a student and then as an instructor. Watching the outstanding results my students achieve in my adult classes and watch how they grow in self – confidence and how it changes their life is incredible. One of the most common comments I hear from many of my adult students is how they wish they would have learnt Krav Maga when they were children and if they had how it would have had a positive impact on their life.  Krav maga is such a simple yet highly effective method that can be taught to children as young as the age of five and this is what led me on the path to train as a kid's teacher and teach these invaluable skills that could change futures.  Personally, I would have loved to of learnt krav maga in my younger years but unfortunately, I didn't find out about it until much later on in my life. I was lucky I was never bullied but I did experience frightening situations and if I had known Krav Maga in my teenage years I would have undoubtedly been more confident, street wise and been safer.  Kids Krav Maga helps children and young adults find the confidence and inner strength that comes from the life skills they learn during classes.  Teaching children and young adults krav and equipping them with the skills needed to keep themselves safe in the presence of danger or against a school bully is an absolute privilege and is very rewarding.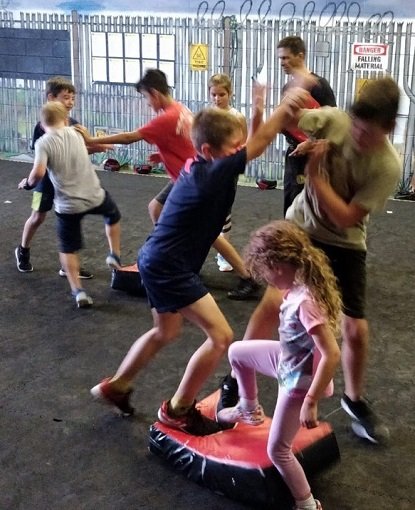 As a parent of 2 girl's my priority is the same as most parents, I want to know my children are safe when I am not there and teaching them krav maga gives me the added reassurance that they have the courage and ability to look after themselves, stay safe and not be a victim. Give your child this opportunity too – with children's krav maga.
My mission is to train your children and teach them the skills to keep them safe so that they have the best chance against anyone that could be a potential threat to them. In todays world there are many challenges that our children face whether it be a bully in the school playground or a stranger in a park learning the basics of kids krav maga can teach your child not only how to keep safe and learn skills that could save their life but will also help them grow in self-confidence and make friends whilst having fun in a safe environment. At B-unit kids Krav they become part of a team with the other children they train with.
Unfortunately, these threats are real, and it is down to us as parents to protect our children and give them the skills to look after themselves when we are not there to help them. Nothing is worse when you hear your child crying for there mum or dad and we are not there.
Let's raise confident and capable children NOW. Children not only learn the skills but become part of a team that they train with and make great friends along the way.
Violence and Bullies don't care about age – children are at the same risk of getting into trouble as adults but can suffer more consequences if they don't have the skills needed to firstly avoid dangerous situations but if they are unavoidable knowing how to defend themselves is the difference between getting home safely or not making it home at all.
Crime is on the rise and unfortunately carrying knifes and weapons is common place and children are being mugged for their scooters, being bullied at school and started on by strangers for no reason at all and of course there is always the ever-present threat of stranger danger.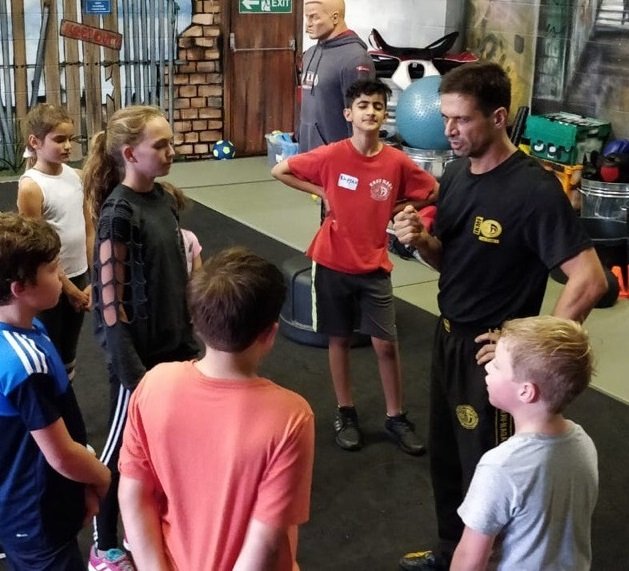 How would you feel as a parent knowing that when your children are not in the safety of your care that they had the ability to keep themselves safe or know what to do if a troublesome situation were to occur.  Contact me to find out more about how my Kids Krav Maga classes can help keep your children safe.
Without krav your children are like defenseless prey
The question is not can you afford Krav Maga, but can you afford not to train your kids in krav maga and give them these skills
11 – 16 Junior
16 PLUS ADULTS CLASS